Access the prelims here.
Open from 9:15 to 9:45 pm
The Prelims are open till 9:15 pm, Click here
And the answers can be accessed here.
If you missed the prelims, access them here:
https://forms.office.com/Pages/ResponsePage.aspx?id=fjrwSHL9YEmYqCWnLQgqSLMkJlap_xJOsSHiqZOlJJpUNlJVSjhMVUYxMEcwNEY1N0EwT0RGTDlMUy4u
The finals of Go Ogle Redux will be held at 8:30 pm, on Saturday 21 November 2020.  This will be a five round affair with one cryptic round and four never-before and never-again new rounds.
The finalists are:
1. Curry Troops – Nikhil Gupta, Adheesh Ghosh, Adil Jacob
2. Strangers in Discord; Abhishek, Sohail, Paul, Arnuv
3. DireWolves, Atul, Prithwiraj, Bedbyas, Somasish
4. Pramod, Allen, Sachin
. FTL:: Aditya, Andrew, Ghanashyam, Apaar
6. B2B: Anirudh S, Swetha G, Nidhi S
7. The Moops of Spain (Jayakanthan, Ashwin, Gopal, Swami)
The Prelims for Go Ogle Redux will be posted at 8:30 pm today on three locations. Here, on our FB page and our server on Discord. No prior registration is required–even though the poster says so. That is only meant to  make you read the rules.
The quiz is open to teams of 4 members.
You will have to collaborate via WhatsApp or Discord messaging to answer the quiz, which will be on a Form (Google/MS)
The prelims are timed for 30 minutes, and will be held today (3 October 2020)
The answers will be given out immediately after the prelims on Discord.
The finals take place next Saturday.
Go Ogle is a fun quiz (for the setters) in that it attempts to frustrate those who Google. We don't discourage you from Googling. The quiz might.
There are good prizes, but they will be given out only after the pandemic has blown over a little bit. Today's Go Ogle is set by Avinash Gajju Thirumalai, Venkataraman Ravindra and Arul Mani.
PRELIMS will start working at 8:45: Click here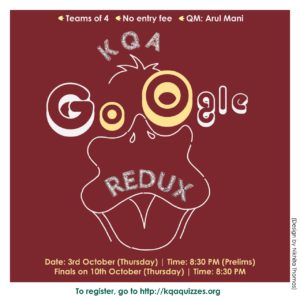 The third contest in our Go Ogle Redux series will be held on two Saturdays in September.
Prelims on 5th at 8 pm, and Finals on 12th, also at 8 pm.
You need a team of 4 members, and a capacity for persistence in the face of many things.
If you missed it, you can try it and view answers here.
Our qualifiers, for the finals on Saturday:
Ashutosh and Ayushman: 7.5
Wrichik Basu: 15
Jayakanthan, Samanth, Gopal, Swami: 39
Atul Mathew, Somashish Ghosh, Prithwiraj Mukherjee: 10
Adit Vishnu, Nishit Pandya, Julian D'Costa, Sabyasachi Basu: 22
Shafeeq S, Ashwin Menon, Prasanth John Abraham, Jyothi Mohan: 14
Debashree: 16
Shashwat, Aniruddh: 10
On Discord: https://discord.gg/tRnJde
We ran a small test-version of  our Go Ogle, souped-up, or down, for teams of four, in July. It was fun, for the QM. So we are having it again. If there is any enthu, we might have it every month.
The rules
Form a team of four, and register before 8 pm. Free entry.
Attempt the prelims here, at 8:45 pm.
 The form is timed to stop at 9:30 pm
Answers at 9:30 pm, on our Discord server.
8 teams qualify, for the finals which are scheduled for the same time, next week.
Go Ogle?
We don't like G0oglers. People do it, nevertheless. We try to make that effort hard, or pointless. With varying success. Bit of a test of endurance. Please don't bring children, and delicate souls, poor things.
The questions are set by Arul Mani.  Feedback is a great thing for electric guitars.
Prizes
Blossom Book House  coupons for top three teams. Will be given out at KQA Anniversary.
To view the questions
Click here.
Prelim Results:
49 teams registered, 25 completed. Our finalists, after checking thrice, are as follows:
 QED, Jayakanthan, Samanth, Swami, Gopal:28
BMQJ/WALTWO, Tups, Santosh, Manu, Udupa:27
Aardvarks- Rahul, Amrit, Kaustubh, Arjo:21
Shafeeq S, Ashwin Menon, Prasanth Vijay, Prasanth John Abraham:17
Preetham Upadhya, Baibaswata Jena, Anshul Nasery, Adarsh Kumar Mohapatra:14
Paddy Power. Anirudh, Shahswat, Kunal, Siddhanth:11
Badagara to BengaluruL Anirudh, Swetha, Neetha, Gopinadhan: 5
Ben Stokes: 3
The finals will beheld at about 8:30 pm on Saturday, 8th August on our Discord server.
Quizzers may be avid,
know their Homer from their Ovid;
But this'll make 'em livid
We ain' no match for Covid.

QMs who'd promised their final set of questions by the end of this week to their co-setters, heave a sigh of relief. Those who'd promised their QM friends that surely-this-time-definitely-100%-I'm-going-to-make-it-to-the-quiz, here's your scapegoat.
Alas alack, 'the situation and related concerns' has come for the KQA – the regular season is suspended till further notice.
We have any eye on it, and will update on the schedule once there's more clarity – currently, better safe than sorry.
Stay safe, stay sensible. It's only quizzing.
Join us for edition 15 of Quiz Night at The Courtyard on Wednesday, 11th of March at 8:00 pm.
The KQA will celebrate Women's Day with a quiz featuring startling and fun facts & trivia about women around the world. The quiz is set and conducted by Anuradha and Sreyashi.
It is a general quiz for teams of two. The quiz is open to all.
When: 8:00 pm on Wednesday, March 11th.
Where: The Courtyard, K H Road. [map]
Registration: ₹100/person. Prizes for top three finishers.
A prior reservation is not mandatory, but it would be helpful for the folks at the Courtyard to know that you're coming – reserve your table by calling them at 73386 77996. Limited parking at the venue.
Note on parking: Very limited parking at the venue, so ideal to park either near St. Joseph's College or the Shantinagar Bus Stand parking lot and walk up.
The Karnataka Quiz Association will be conducting two quizzes on 8th March (Sunday) at the Ujjivan head office in Koramangala.
11:00 am — Ads Astra – The Advertising Quiz, by Sai and Urmila. A quiz on ads, advertising industry and people from the advertising world. Special focus on women as the quiz is on March 8. It is a written quiz for teams of up to two. Open to all.
2:30pm — The Nexus Open Quiz This will be the 3rd edition of the general quiz conducted by Nexus Consulting. Cash prizes of Rs. 16,000 generously sponsored by Nexus Consulting. There are prizes for best school and college teams as well (mixed teams allowed – no requirement of all team members to be from same school/college). Come by for some #funwithfundas
It is a prelims/finals quiz for teams of up to four. Open to all.
Venue: Ujjivan head office, Koramangala [map]
You can also get the latest updates on the KQA by following us at www.facebook.com/kqaquizzes or www.instagram.com/kqaquizzes
If you know of anyone who would like to be a part of the KQA Quiz Announcements WhatsApp group, please have them send a WhatsApp message to +91 9902444486
The 26th edition of the Vidyasagar Rajan Memorial Quiz will be held on Sunday, 23rd February 2020, at the Institution of Agricultural Technologists, off Queen's Road. [map]
The quiz is held in honour of Vidyasagar Rajan, a star collegiate & open quizzer who represented St. Joseph's College and IISc before his tragic death in a road accident in 1994.
The quiz is open to college (UG and PG), PUC and school teams, with each team having a maximum of 3 members.
QMs: Dr. Avinash Thirumalai and Dr. Arul Mani
RULES
No-cross-college or cross-school teams
No limit on number of teams per college: cap of 2 teams from a college in the finals
Teams of 3 members from the same institution
School, PUC and UG/PG teams are all welcome
Prizes for all finalists, and also for the best all-women team
SCHEDULE
Reporting Time: 9:30 am
Prelims: 10:00 am
Finals: 11:00 am – 12:30 pm
Venue: Institution of Agricultural Technologists, Queen's Road, Bengaluru [map]
KQA yearbooks will be available at the venue.
You can also get the latest updates on the KQA by following us at www.facebook.com/kqaquizzes or www.instagram.com/kqaquizzes
If you know of anyone who would like to be a part of the KQA Quiz Announcements WhatsApp group, please have them send a WhatsApp message to +91 9902444486